Rep Schweikert: The United States Will Never Default on Its Debt
Dear Constituent,

I hope you and your family are doing well! I wanted to provide a few updates on my work this past week for the residents of Arizona's First Congressional District.

The United States Will Never Default on Its Debt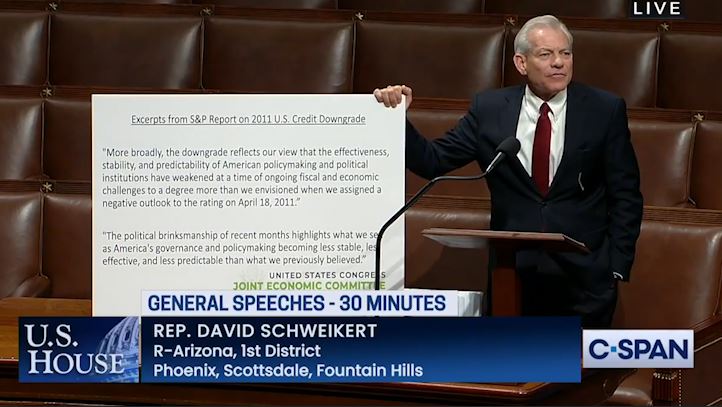 In my speech on the House Floor last week, I emphasized that the United States will never default on its debt even as negotiations are still progressing between the White House and House Republicans. Default happens when we can't pay the interest on our bonds. Right now, the U.S. takes in about 70% in income tax receipts, and 30% of our spending is borrowed. So, we have plenty of cash to cover the interest on our bonds. But that doesn't excuse us from failing to curb our irresponsible spending habits.
If we don't communicate to debt markets that we take our debt seriously, then we risk repeating the same fiscal mistakes of 2011 when Standard & Poor's lowered the U.S. credit rating for the first time in history.
Simply Raising the Debt Ceiling Won't Solve Our Nation's Fiscal Challenges

Last Tuesday, I penned an op-ed for RealClearMarkets.com asserting that the United States cannot afford to simply raise the debt ceiling without exercising fiscal restraint. I also called out President Biden and Congressional Democrats for playing politics rather than seriously negotiating to save our nation from the brink of default. It wasn't that long ago when Nancy Pelosi and Chuck Schumer used the debt ceiling vote to extract billions in additional spending in a deal with the prior administration when it was raised in 2017 and again in 2019.
If we want to gain the trust of the American people, we must stop the posturing, tell them the truth, and be candid and willing to admit when we are wrong. We must demonstrate that we are capable of sitting down and acting like adults when negotiating fiscal discipline. The future of our nation depends on it.
Leading the First Joint Economic Committee Hearing of the 118th Congress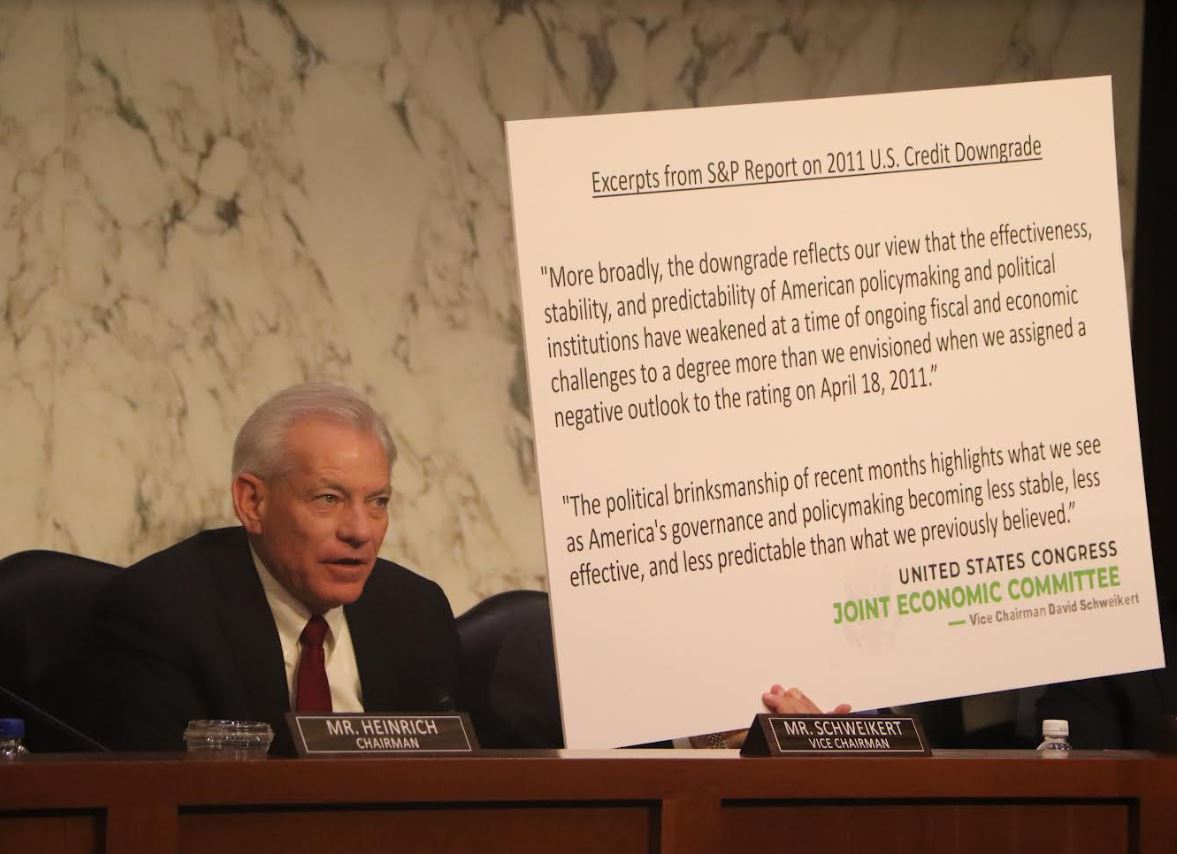 Last Wednesday, the Joint Economic Committee hosted its first hearing of the 118th Congress on the impacts of a potential U.S. debt default. As Vice Chair, I reiterated that Republicans are not walking this nation to default and noted the threat of default is being used by the Left as a scare tactic.
This committee has a moral obligation to provide information for the construction of policy discussions surrounding our debt. Above all other committees, the Joint Economic Committee has an opportunity to meet the morality of the crushing debt that's weighing on society. It's my hope that this committee will return to being intellectually credible.
Upcoming Mobile Office Hours
Tomorrow, May 23rd, my District Office team will be at the Granite Reef Senior Center located at 1700 N. Granite Reef Road, Scottsdale, AZ 85257, from 10 a.m. until 12 p.m. to assist constituents one-on-one with casework. If you or someone you know needs help with a federal benefit, such as Social Security, VA, or OPM, please come by to see how the office can be of service.
If you are unavailable during this time and have questions about casework or other constituent services, please call my district office staff at (480) 946-2411.
What I'm Reading & Why It Matters

This week, I'm reading this informative article in the Wall Street Journal on the agreement between Arizona, California, and Nevada to voluntarily cut their use of water by at least 3 million acre-feet by 2026 to help keep the water levels in Lake Mead and Lake Powell from falling too low.
I continue to monitor the water levels at Lake Powell weekly, which is up 19.62 feet from one year ago. Currently, the reservoir is 28.46% full. For historical comparisons, check out the database here.
Thank you for taking the time to read this update on my latest work in Washington, D.C. and Arizona's First Congressional District! If you have any comments or concerns, I encourage you to reach out to my office.
Sincerely,

David Schweikert
Notify Me When There Are Updates
---
By submitting this form, you are consenting to receive marketing emails from: . You can revoke your consent to receive emails at any time by using the SafeUnsubscribe® link, found at the bottom of every email.
Emails are serviced by Constant Contact
By submitting this form, you are consenting to receive marketing emails from: AZ Legislative District 3 Republican Committee. You can revoke your consent to receive emails at any time by using the SafeUnsubscribe® link, found at the bottom of every email. Emails are serviced by Constant Contact